Komondor dog a special breed of dog. The Komondor comes with lots of benefits in addition to the responsibilities. This loyal breed will happily spend his days with humans, serving as companion, friend, and guardian. Today, we relate you with some Amazing facts about Komondor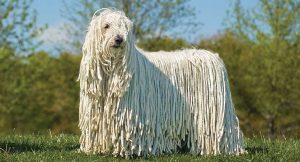 Amazing facts about Komondor Dog
This hairy breed of dog was originally bred in Hungary and was used to guard the flocks of sheep there.
Komondors are related to Russian stock, and may be among the oldest of the dog breeds.
These large dogs are very protective of their homes and owners and also receive a lot of attention at competitive dog shows.
The Komondor sheds practically no hair at all. You'll virtually never find a hair in your home!
His coat requires brushing and combing daily.

The Komondor is happiest when he's working. He's ideal for guarding livestock, but any job will give him the mental exercise he needs.
The American Kennel Club recognized the breed in 1937, but there was few Komondor outside Hungary until after 1962.
The Komondor male stands 27.5 inches tall and up and weighs 100 or more pounds; a female is 25.5 tall and weighs 80 or more pounds.
Komondor are generally healthy, but like all breeds, they can be subject to certain health conditions.
So, these are some Amazing facts about Komondor Dog